Hair extensions
The hair extension market is now an extensive part of hairdressing. Techniques are evolving constantly. We Have summarized some of the popular ones with an explanation for you provided by Hair extension club.
Invisible Hair Extensions
Invisible hair extensions are also known as skin wefts. Skin wefts are an imitation of the skin with hair "growing" out of it.
Skin wefts are applied with a bonding material directly to your scalp. These extensions last for 5-8 weeks before they must be re applied for secure wear.
Specifics
The hair can be re-used
Looks and feels very natural
This method works well for women experiencing hair loss due to: Chemotherapy, Radiation, Alopecia, Trichotillimania, Hereditary Hair Loss, and Surgery Scars. The skin is made so it matches your scalp color, so it is invisible in your hair.
Why Choose Skin Wefts?
This method eliminates the problem of visible extensions when turning your head or the wind blowing. The extensions can be attached anywhere on the head, even in the front! Skin wefts really are invisible hair extensions because they look as if they are coming out of your scalp
Skin wefts are great if you have thinning or balding hair because it creates a natural invisible hair installation. This method is great for people who have had chemo or suffer from other diseases claiming hair loss. The natural hair grow out while you are wearing these extensions.
The hair can be reused, and the hair can be brushed in any direction to create the most natural looking finish
Skin Wefts are not for Everyone
This method is great for you if you have very thin hair. It is a bit pricey, and is not yet available at very many salons. Invisible hair extensions(skin wefts) are not right for you if:
If you have very thick hair
If you are going for lot's of volume
If you do not want to be bothered with having the hair reattached as frequently
Overall invisible hair extensions are mostly recommended for people with very thin hair or hair loss. If you are interested in a similar method better suited for adding length an volume you should check out tape hair extensions.
Hot Fusion

Hot fusion hair extensions are also known as keratin hair extensions. Keratin extensions is one of the most popular hair extensions methods available on the market.
Hot Fusion specifics
Strands of extensions hair is attached to your natural hair with a keratin based bonding polymer.
Hot fusion hair extensions last anywhere from 2-4 months
Hot fusion hair extensions take about 2 hours
You can style your hair up or down
A few years back fusion hair extensions was applied with a regular "hair glue." Later a new bond formed from keratin was developed. Since your hair shaft is made out of 90% keratin this is a more healthy, less damaging option for applying fusion extensions.
Who should get Fusion Keratin Hair Extensions?
Fusion hair extensions is a very widely used hair extensions method. It is fast, secure and creates a very naturally flowing install if attached properly. Fusion hair extensions are long lasting (2-4 months). It is a flexible hair extensions application where you are able to wear your hair in a high ponytail.
This method is perfect for adding both length and volume.
Reasons why Hot Fusion Keratin Hair Extensions may not work for you
Due to the fact that this is a "permanent" hair extension technique, it requires a professional to remove the hair extensions without ruining your hair. This is an added expense to the initial hair extension application.
Even though the keratin boding polymer is less damaging than plain hair glue, this method will cause some degree of stress on the hair when removed.
If you are looking for a completely non damaging hair extensions technique, this is not the way to go. Try researching sewn in weaves instead.
Cold Fusion
Cold Fusion extensions is a strand by strand technique attached with a polymer keratin bonding material. The hair is pre tipped an each strand of hair is attached to your natural hair.
What are Cold Fusion Hair Extensions?

Cold fusion is a newer extensions method, that is created to be more gentle on your natural hair then hot fusion. The pre-tipped kearin hair extesnions are secures to your natural hair strand by using an ultra sound applicator. This means that unlike other keratin based extensions this method does not use heat, that can potentially damage your natural hair.
What are the Benefits of using Cold Fusion vs Hot Fusion?
The keratin polymeter used in cold fusion is said to provide a more flexible attachment that makes the extensions application feel more natural in hair. Offers more flexibility than hot-glue, and results in more natural-feeling hair.
Why should you get Fusion hair extensions?
Fusion hair extensions are a fast and non time consuming way of attaching strand by strand hair extensions. Other benefits of using cold fusion are:
A long lasting hair extensions technique.
A very natural finish and flow if applied correctly.
A great technique for adding volume and length to your natural hair.
The hair can be applied closer to scalp then hot fusion.
Cold Fusion is one of the best hair extensions methods for short hair.
This method isn't affected by heat, so straightening irons and hair dryers will not effect the extensions life spam.
Fusion Hair Extensions are not for everyone
 With any hair extension technique having the extensions applied by a experienced professional is very important. Cold fusion extensions can be a bit pricey.To insure that your natural hair does not get damaged- they should be removed proffesionally.
If you are interseted in getting fusion hair extensions you should purchase pretipped or bulk hair remy extensions hair.
Flat Fusion
flat fusion hair extensions method
The flat fusion hair extensions method is a newer form of fusion keratin extensions. This is a newer form of fusion strand by strand hair extension technique.
The hair is attached with the traditional keratin adhesive, but it is applied with flat tips instead of the usual round tips. This technique is also known as 'Square Tips'.
What are the Benefits of Flat Fusion Hair Extensions?
Flat fusion hair extensions is a relatively new hair extensions method. Flat tips are made out of the same keratin adhesive as regular 'tip' hair extensions. Some of the benefits of installing flattips, or square tip hair extensions are:
A very flat and undetectable hair extensions application
This is a very durable hair extensions technique that should last you about 3 months(depending on how fast your hair grows)
Less shampoo, conditioner and other hair products get trapped in the flat bond as opposed to other keratin extensions
You will experience little to no shedding with this hair extensions method!
Cons for Flat Tip Hair Extensions
As with all fusion techniques, this should be removed by a professional hair stylist, which gives added extra cost to the initial application price.
Also, strand-by-strand methods can potentially be damaging if not removed by a skilled hair extension's professional.
Brazilian Knot
Brazilian knot hair extensions Brazilian Knots hair extensions is a strand-by-strand hair extensions technique. As the name emplies, this hair extensions method originates from Brazil.
This unique hair extensions method has many names; the Brazilian hair extensions, the Italian knot technique, Brazilian knot hair extensions or elastic fusion.
What are Brazilian Knot Hair Extensions
The extensions are applied strand by strand with a special thread technique. This creates the versatility of a fusion technique without using potentially harmful substances on your hair such as keratin glue.
The Benefits of getting Brazilain Knot Hair Extensions
Compared to the pinch braid techniqe this extensions application allows for a very small install.
The Strands are very light and therefore they do not pull on your hair as much as the glue. They will last (depending on the growth of your hair) between 3 to 4 months.
This technique is causes less stress on you hair and is therefor more healthy for hair because it does not use any bonding material- simply elastic thread.
This also makes the removing process easy, and if you are careful you can do it at home.You basically just snip off the elastic thread!
Brazilian knots create a very natural hair extensions wear, with a lot of versa.
Who should not get Brazilian Knot Hair Extensions?
You must go to a stylist that is gentle on your hair. When applying this technique there is a bit of pulling, tucking and twisting of your natural hair in order to put in the string securely.
This hair addition method is a bit more time consuming than the comparable fusion technique. The technique usually takes about 4-10 hours to apply.
Hairlocs

hairlocs hair extensions pictures
Hairlocs is a strand by starnd hair extensions technique. Hairlocs creates a similar result to fusion hair extensions, with out the use of heat and glue.
How do Hairlocs hair extensions work?
Hairlocs are applied by sectioning your hair into small sections piece after piece.
The hairlocs ring is then looped around the strand.
An I tip hair extensions piece is inserted into the loop.
The loop is then clamped shut to secure the hair.
Hairlocs extensions are very similar to the micro cylinder attachment method. The difference is that Hairlocs utilizes tubes that are a bit larger than the micro cylinder hair extensions.
Hairlocs Specifics
Hair Locs is applied with Remi cuticle hair from various European countries. The hair is then imported and processed by Hair Locs™. Hair is custom ordered for exact match. The hair is re-useable over several applications if cared for properly.
Hair Locs is applied by looping a small copper tube into your hair and then insterting the extensions hair comes with a wax tip on the end of it. To seal the extensions strand the tube is clamped shut with a hair Locs applicator tool.
The Hair Loc tubes comes in 4 different sizes, that combined in hair creates the optimal hair extensions install.
Some of the benefits of using hairlocs are:
Easy application and takeout process
Very gentle on hair
Creates very natural hair instal that can be worn up and down.
Last 2-3 months
Removal can be done at home with the purchase of a special tool.
The 'Cons' of the Hairlocs Hair Extensions Technique
Hair Locs is know to be a bit thicker and bulkier than shrinkies or fusion. Also, since it is a patented hair addition method, it is usually a bit more expensive than regular microcylinders- with the only added benefit being quality control.
Microchet hair extensions
a newer invention in the hair addition field. This invention is a simple and tiny thread technique in which the extensions hair is applied to your natural hair by a looping mechanism.
Pros
The process is quick and easy with no pulling or stress and no damage to your own hair. is virtually undetectable and easy to apply. The removal is as quick and easy.This hair system does not require heating or chemicals for attachment or for removal.
The microchet technique is said to create hair extensions that look and feel very natural. The attachments are ranked in different sizes ranging from a to E(E being the smallest), and can be made so small that these extensions can be placed on difficult areas such as the top of the head (methods C,D and E)
Cons
Many techniques allow for th hair to be reused after initial application, Microchet only allows for about 40% of the hair to be reused.
The attachments are so small that you will need to have a friend or a proffesional help you to get it out so you do not cut your own hair.
Pinch braids
is a hair extensions technique that attaches the Human hair or synthetic hair to the natural hair by braiding them together in a small braid and then securing the braid with string(usually elastic thread). This technique has been around for many years and originates from Africa. The technique last about 3-4 months, depending on how fast your natural hair grows. The extensions should be removed when hair has grown out 1-1.5 inches to prevent dreading of natural hair.
Pros
This is an all natural hair extension method that does not use glue, keratin or heat that can potentially damage your natural hair. Removing the hair extensions is pretty easy and does not require any remover of any sort.
This method sits very securely in hair and therefore works well on people who can get a little rough when brushing there hair- this is often the case with people who have coarse or curly hair.
Cons
The process of braiding the hair might take a toll on the natural hair if not done carefully. People with thin and fragile hair should make sure when getting this technique that the hair extensions hair stylist is not to rough on the hair.
Shrinkies
What are Shrinkies Hair Extensions?
The shrinkies hair extensions is a strand-by-strand hair addition technique.The Shrink-Link is threaded onto your natural hair with a looping technique. A pre-bonded strand of extension hair is then placed inside the tube along with your natural hair and then using a special heat clamp the Shrink link is then heat activated and shrinks around them both.
When heat is applied to the shrinkie, the keratin fuses with the extension and natural hair creating a bond. The tubing shrinks down and protects this bond.
Shrinkies Hair Extention Specifics
A install typically lasts from 3-4 months.
The Shrink-Link hair extension method take approximately 2 hours to install.
The benefits of using Shrinkies Hair Extensions
Shrinkies are a durable and long lasting hair extension method. The hair extensions wearer should be able to remove the application on their own with a little bit of patience. Reheat the bond, remove extension hair and shrinkie and clean any remaining keratin residue with an orange oil or an acetone based remover.
Who shouldn't get Shrinkies Hair Extensions
Review around the internet seem to lean on the fact that this method is not as durable as the fusion extensions technique.
Clip on hair extensions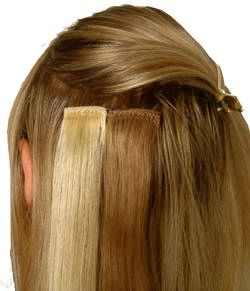 is an easy ad popular way of adding instant growth to your natural hair. Our human clip in hair extensions are available in a range of different textures. All of our hair is premium quality virgin remy hair cut from a single donors head to ensure minimal shedding and tangling. Clip in hair extensions is an easy ad popular way of adding instant growth to your natural hair. As all other extensions clip on extensions are available in many textures and qualities. Clip in extensions are available in human hair extensions and synthetic clip in extensions depending on your preference. It is important that you find clip in extensions that match your natural hair texture and color since they will be intergrated with your natural hair, and therefor will not hide your natural hair texture nor color. Straight clip in extensions are the most popular variant but curly clip in extensions are also available on the market. You can either opt for a full head of clip in extensions for length and thickness, or just op for thickness with a few tracks of clip in extensions. Clip in extensions is a very popular extensions method amongst white women, but they are also clip in extensions for black women on the market.
premium clip on hair extensions
Clip on Hair Extensions
Hope this helps to understand !